If Your Audiences Aren't Emotionally Connecting to Your Songs, You're About to Find Out Exactly How to Make Your Lyrics More Meaningful to Your Listeners
50% Complete - One More Step!
Enter Your Email Below to Have Your FREE Lyric Writing Cheat Sheets Sent to You While They're Available:
We value your privacy and would never spam you
Lyrics are incredibly important to a great song, and I'm going to show you how you can achieve meaningful lyrics that connect with your audience.
Well written lyrics create an emotional connection with listeners that makes them fall in love with a song. Lyric writing is about more than the message of your song alone. It's about presenting your message in a way people will respond to. If you don't showcase your ideas in an interesting way, people will be much less likely to relate to them.
In other words, great lyrics resonate with people. So, when it comes to your songs:
Are your listeners emotionally connecting to what your songs are saying on a consistent basis?
If not, you probably just need to know the specific elements that most great lyrics have in common. After all, those elements are what's making them appealing to listeners.
My name's Anthony Ceseri and like yourself, I'm a songwriter. For no apparent reason, I used to think I was the greatest lyricist around when I first started writing songs (I definitely wasn't, as I'll tell you about in a second).
So one day I decided to submit one of my songs for a professional review to see all the "great things" that would be said about it. Haaa... wow, was I wrong! My song got TORN APART in that review.
I wanted to find out if it was just a fluke, so I submitted a few more songs for review, with the same brutal results. But looking back on it, those reviews were deservedly bad. One of the things that appeared as a theme in those early reviews was my lyrics didn't create a coherent story. I had an idea in my head of what my song was saying, but I wasn't conveying it well to my audience.
Then I thought about some of my favorite lyrics by artists I love and how their stories strongly resonated with me, so I needed to understand what the best songs were doing lyrically if I wanted to write great lyrics too. So I built a solid songwriting education for myself and made it my mission to know what makes lyrics that connect with listeners.
As a result of that I ended up analyzing a ton of hit songs for articles on my own website and for other great songwriting websites, like USA Songwriting Competition's Blog and CD Baby's Do It Yourself Musician's Blog. I've even had my writings appear as examples in the book Songwriting Without Boundaries, by Pat Pattison, who's an acclaimed Lyric Writing Professor at Berklee College of Music.
And now I've condensed the most important lyric writing concepts I've learned into a couple of cheat sheets:
Meaningful Lyrics Cheat Sheet
This Cheat Sheet shows you the most important things to keep in mind when you're writing lyrics. And it's in an easy-to-follow format, so you can reference it when you're writing your next song.

4 Techniques Used by Expert Lyricists In Their Hit Songs
Learning from hit songs is extremely beneficial when it comes to writing great lyrics. That's why this cheat sheet shows the exact strategies being used by some of the best wordsmiths. This way you can apply these concepts to your own songs to create an emotional connection with your listeners every time you write lyrics.
To start using them to write better lyrics right now, enter your information by clicking the button below. You'll be emailed the download link for both of these cheat sheets right away. No strings attached. I'll send you both of these cheats sheets which will show you exactly what you need to know about writing lyrics your fans will fall in love with. Your email address won't be shared with anyone and you can unsubscribe at any time. I hate spam just as much as you do, so click the button below to get started with these cheat sheets right now!
Enjoy!
Anthony Ceseri
Success For Your Songs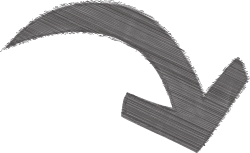 50% Complete - One More Step!
Enter Your Email Below to Have Your FREE Lyric Writing Cheat Sheets Sent to You While They're Available:
We value your privacy and would never spam you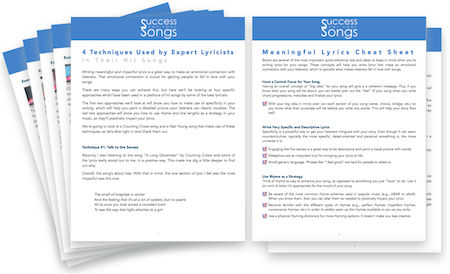 Do you want to take advantage of these 2 FREE lyric writing resources while you still have the chance? If you're a songwriter, you'll see improvements in the very next song you write!
YES!
Send Them to Me NOW So I Can Get Started!
We value your privacy and would never spam you