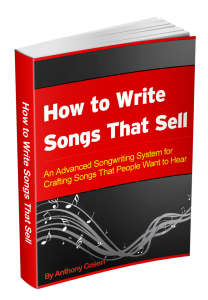 As a Songwriter, It's Important to Know There Are Methods You Can Use in Your Songs to Get People to Want to Hear Your Music
We'll Talk About Those Methods Here…
From: Anthony Ceseri
Re: Writing Songs Your Listeners Will Be Excited About
Dear Songwriting Friend,
Have you ever had any of these things happen with your music?
You wrote a song you felt was really strong, but it just didn't get the response you hoped for. You were thinking it would be the song to propel you to greatness, but it never happened.
You had a song that people told you they loved, but still no one actually bought it or told their friends about it.
You submitted a song to a radio station or for placement in a tv show or film,  but never heard back from anyone, leaving you to believe your song wasn't up to their standards.
You posted your song to a social media site, thinking you'd get a ton of great feedback, but hardly anyone commented on it at all. And if someone did, it was one of your friends.
Or maybe you've written a great song that had some success, but you haven't been able to recreate that experience for yourself. (By the way, if that's the case, you probably lucked into what works without understanding what it was. That's why you weren't able to make it happen again.)
If you've experienced any of these scenarios  you just may need to know the specific elements that most successful songs have in common. After all, those elements are what's making them appealing to listeners. Writing something that's "cool" is one thing, but to have it be something desired by a lot of people is a something entirely different.
The great part is you can incorporate these elements into your music without compromising yourself as an artist. You might be afraid that if you learn or apply certain techniques to your music, your songs will be too cookie cutter. You don't have to worry about that. There are plenty of approaches you can use that will make your music better, without forcing it into a sound you're not interested in. You'll keep all your creativity, without becoming a "cookie cutter" artist. It'll just make your songs more desirable to hear. By taking certain approaches to songwriting, you can greatly increase the chance of your listener wanting to own it.
Do You Want to Be an Innovator?
I used to think I was the greatest songwriter around. The truth was I was far from it, because I hadn't learned any of the concepts that can make a song great.
I wanted to be an innovator and do whatever I wanted, but I didn't realize that before you innovate you have to know the methods that have worked again and again. Then you can stray from them. If you just do whatever you what, whenever you want, without learning, it's a recipe for a song that's just messy. Believe me, I learned that the hard way. I once had a song that went from rock, to funk, to jazz all in the same song! I thought it was great because it was original, but needless to say my listeners had no idea where I was taking them with that kind of music. I was trying to innovate before I knew anything about what makes a song successful.
Then I realized that once you know the ideas that go into a successful song, you can use them to make your song great, or you can creatively stray from those same ideas to make your song innovative. Either way, you win. But you have to know what those concepts are first.
Once I realized my songs weren't working, I decided to build a solid songwriting education for myself and make it my mission to know what makes songs listeners want to hear. I read books, and went to seminars and workshops given by the best and most accomplished songwriting teachers around. I learned all the best tips, tricks and techniques there are. Some of what I learned worked and some didn't. But the stuff that worked, worked incredibly well.
As I started to learn more and more about songwriting, I developed the ability to see what made successful songs work so well, while other songs didn't   It became almost instantaneous when I listened to a new song.
Apply The Best Ideas to Your Music
Once I realized I could see songs in this way, I realized I'd have to put these ideas into an EBook to be able to give other songwriters the ability to clearly see what can make their song work, while sparing them information that doesn't work. Not to mention saving them time too.
And that's what I've done. I took all the best information on melody writing, lyric writing, chord progressions and even coming up with song ideas and put it into my EBook called How to Write Songs That Sell.
This EBook will teach you two methods for writing a song from start to finish. The first method is called the Find Inspiration Method, where you'll learn how to specifically draw inspiration and get ideas from other songs, and turn them into ideas that are completely your own. You'll be able to dismember a current song, examine the parts, change them and then put them back together to create a whole new song of your own. You'll never understand an existing song (or your own song) so well as when you take this approach.
The second method you'll learn is the Do It Yourself Method, where you won't be relying on other songs at all. It'll show you how to create songs people want to hear completely from your own brain.
If you decide to combine parts of these two methods together, you'll see great results. Great artists are always looking to other artists for ideas, while at the same time innovating from their own minds. If you combine the two methods, you have a great opportunity to do that yourself.
And you'll learn both the Find Inspiration Method and the Do It Yourself Method for each major component of your song: melodies, lyrics, chord progressions and even your song's overall idea.
In the

Melody Section

, I'll Reveal to You:
What the 2 components of a melody are, and how changing anything aside from those two components won't affect your melody at all. (page 62)
How to reference proven successful melodies to give people a familiar sound that's already great, while at the same time making the melody completely your own. (page 63)
How to easily create a catchy piece of melody in your song and how to use it to keep your melody both interesting and memorable to your listeners. This will keep it in their heads, so they'll want to hear your song more often. (page 65)
How to change the rhythm of a melody to give it a completely different sound. (page 69)
How to change the notes in a melody (while keeping its rhythm) to come up with a fresh idea. (page 70)
A simple way to use the notes in your chords to come up with a melody. (page 72)
How to use the notes of a scale to write a melody, so you won't have to rely on simply coming up with something off the top of your head anymore. (page 72)
How to organize your notes to come up with a singable melody your fans will love. (page 81)
How to create a powerful contrast in your melodies as your song travels from your verse to your chorus, in a way that will keep your listener excited each time they hear a new part of your song. (page 83)
How to be consistently writing melodies as you go about your daily activities. (page 85)
How to strategically separate your melody from your lyrics to come up with a marketable sound. (page 85)
How to make your listeners want to hear your melody again and again. (page 87)
I'll also give you a "cheat sheet" for all the notes you can use in your melodies for any key your song is in, making it super easy to come up with a melody over any chord progression. (part 2 of your bonus EBook)
In the

Lyrics Section

, You'll Discover:
Why using specificity in your lyrics can be a powerful way to get your listeners intrigued with your story. (page 92)
How to engage the five senses as a way of painting a very visual picture with your words, which will pull your listeners into your story and keep them engaged. (page 93)
What 2 senses you can engage, in addition to the standard 5, to really keep your lyrics exciting. (page 97)
How to write metaphors, which are mandatory element of great lyric writing. (page 98)
How the number of lines you use in your song can affect what your lyric is about, and how to use that to your advantage as you write. (page 99)
How to highlight the most important phrases of your lyrics (like your song's title) so they stand out to your listeners. (page 102)
How to write your lyrics to a rhythm, so you don't end up with wordy, awkward sounding lyrics and melodies that will bore your listeners. (page 105)
How to write lyrics to music in a way that gives your words the biggest impact. (page 107)
How to use the length of each phrase in your song as an important tool in your lyric writing to highlight what your lyrics mean. (page 111)
How to align your lyrics with your melody to create a song that easily resonates with your listeners. (page 115)
What the the different types of rhymes are and the best time to use each one for an impactful listening experience. (page 121)
Why using a physical rhyming dictionary can help you write better lyrics.  You'll also see how to use one. (page 124)
What the most popular rhyme schemes are and how you can alter them to positively impact your lyrics. (page 127)
How to avoid having your phrases sound awkward. (page 132)
How and why to avoid cliches, and how to use them on occasion to create a whole new meaning no one's ever heard before. (page 133)
How to keep your listeners interested in your story from your first line to your last chord. (page 136)
In the

Chord Progression Section

, I'll Share:
How to reference the chords from a successful song to give people a familiar sound that's already a proven success, while at the same time making it entirely your own. (page 35)
How to use the rhythm of another song to create a cool vibe to your own music. (page 36)
How to use tempo as a tool to set a mood in your songs. (page 37)
How to modify your chords to create a new sound for your chord progressions. (page 38)
How to easily change the key of a song so you can make it as simple as possible for you to sing it or play on the piano or guitar. (page 42)
How to modify the chords of an existing song to compose a great cover song in your own style. (page 45)
How to change a song from major to minor to drastically alter its mood, to match your song's main idea. (page 49)
What the most commonly used chord progressions are, so you can either use them for a familiar sound, or stay away from them when you're innovating. (page 54)
What the most common songs structures so you can use them to structure your song with a familiar sound, or stay away from them if you want to be more creative. (page 56)
How to contrast your chords from section to section to create an enjoyable listening experience for your fans. (page 59)
I'll also give you an easy-to-reference cheat sheet, so you'll know what chords to play in any key, making it super easy to come up with chords for a song, or to transpose a song to other keys. (part 1 of your bonus EBook)
In the

Song Ideas Section

, You'll Learn:
How to come up with a specific idea for a new song, based on an existing successful story. (page 10)
What questions to ask yourself before starting a song, to keep your ideas focused as you develop your idea. (page 13 & page 16)
How to turn simple, every day words and phrases into full song ideas. (page 15)
How to come up with a title that will make people want to hear your song, and how to develop that title into a full song. (page 17 & page 135)
How to use everyday conversations as a way to consistently come up with song ideas. (page 17)
How each section of a song functions and how to use each section to benefit your songs. (page 20)
How to take a simple idea and methodically turn it into a full song, section by section. (page 22)
Why tapping into people's emotions will make them want to hear your song again and again. (page 27)
How to create a lead character in your story that your listeners can easily relate to, making them fall in love with your song. (page 27)
How to keep and organize your best song ideas, so you can develop them into a full songs whenever you want. (page 31)
Tying These Elements Together
Not only will you learn these concepts (and many more) about melodies, lyrics, chord progressions and song ideas, but you'll learn how to tie these elements together to create prosody in your music.  Prosody is when you connect the elements of your song into one single idea, for the most pleasurable listening experience for your audience. And prosody's a theme throughout this EBook. So whether you're writing chords, a melody or lyrics, you'll learn how to use prosody to connect each of those elements into your song's overall idea to create an impactful listening experience your listeners are bound to love.
You'll also see plenty of examples of how these concepts work, so you'll be able to easily use them in your own music.
Also – In a

Bonus Section on Mindset and Practice

, I'll Reveal:
How songwriters limit themselves, and how to avoid doing that in order to succeed. (page 147)
How to add new songwriting routines into your life so you'll stick to them and not give them up like a bad new year's resolution. This will keep you on a path to success. (page 149)
How to keep yourself motivated as a songwriter, whether you feel like writing or not. (page 150)
How to eliminate distractions when you're writing, for more efficient writing sessions that will output better songs. (page 153)
Whether you should strive to write a lot of songs, or just a handful if you want to become a great songwriter. (page 155)
How the simple act of making quick decisions can help you reach your songwriting goals. (page 156)
How to create your own roadmap to success as a songwriter to create the future you want. (page 158)
How to get yourself to take the necessary steps you need to take to move forward with your songwriting career. (page 160)
What the five crucial keys to becoming and staying a successful songwriter are. (page 161)
How being persistent can help you achieve success. (page 162)
I'm Also Throwing In a TON of Great

FREE Bonuses

For You!
FREE BONUS #1 

– 

The AUDIOBOOK Version of How to Write Songs That Sell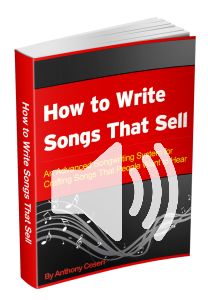 The mp3 audiobook version of How to Write Songs that Sell lets you easily absorb the contents of the book anytime and anywhere you want. It even includes audio versions of the examples discussed in the EBook, which really helps bring to life the music the book discusses. Plus, the audio format makes it easy to listen to the contents of the book several times, getting it ingrained in your brain so you hardly even have to think about what to do when you're writing your songs.
FREE BONUS #2 

– 

The Chord and Melody Writing Cheat Sheet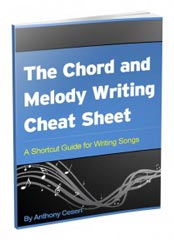 This EBook outlines the chords for you in each major and minor key, while giving you the notes to use to write a melody in each of those keys.  You'll never have to worry about having writer's block again when writing chords and melodies. This resource is an invaluable songwriting tool, and it's yours for free.
FREE BONUS #3

 – 5 Must-Know Methods For Serious Songwriters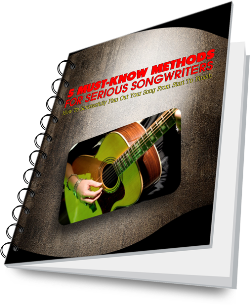 This EBook looks at five methods you can use to take your song from start to finish. Specifically, it focuses on skill building, planning out your song, your song's introduction, lyric writing and melody writing. There's even a bonus section with more content for you to keep in mind the next time you write a song.

FREE BONUS #4

 – Music Marketing For Songwriters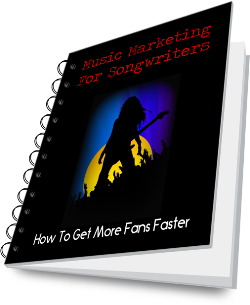 If you want to get anywhere as a songwriter or a performer, you have to learn how to market yourself and your music. This pdf will provide you with useful and easy-to-apply information on how you can achieve your songwriting goals, based on how you market yourself and your music.

FREE BONUS #5

 – 25 Quick Tips For Writing Better Songs: 

Volume I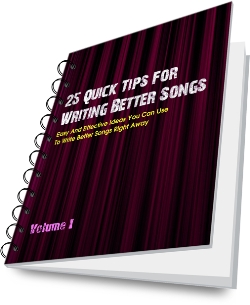 This EBook covers 25 quick, but very effective ideas you can use in your songwriting immediately, to start writing better songs. Topics include Lyric Writing, Melody Writing, Song Structure, Title Writing, Songwriting Inspiration, Performance and Recording, and General Success Tips.
FREE BONUS #6

 – 25 Quick Tips For Writing Better Songs: 

Volume II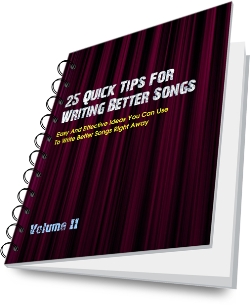 Volume II provides you with 25 more quick and effective songwriting ideas, rounding out your collection at 50 tips. The topics covered are similar to those covered in Volume I, with completely new information to complement what you've learned in the first volume.
FREE BONUS #7

 – The Whys and Hows of Copyrighting Your Music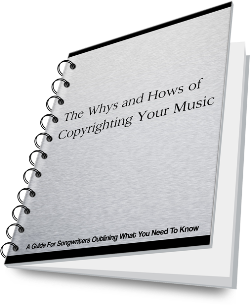 This EBook covers the essential questions many songwriters have about copyrighting their music. Once you're aware of the fundamentals of copyrighting, knowing when and where to copyright your music should be one less thing for you to worry about as a songwriter.

What Your Peers Are Saying
Thank you so much for this information. It makes perfect sense and has drastically improved my songwriting.  Thank you! 
-Bryan, New York
I just read the whole EBook. It is REALLY helpful! I can't thank you enough for all the useful concepts!
-Emily, Florida
The way in which your advice has benefited me has not been small. You have made me realize that knowledge is infinite and one must always strive to improve one's skills through endless knowledge acquisition.
-Jeff, Pennsylvania
Congratulations!  You've managed to encapsulate a lot of great material in a well organized and readable fashion. You obviously have a gift for teaching, in addition to your excellent grasp of the craft of songwriting.
-Dave, California
I loved reading this! I can't waiting to start implementing everything I've learned!

-Donna, Vancouver
I want to take a minute to let you know that I have purchased your course and found it to be very useful! Thanks for cutting through the mountains of material on the net with focused-to-the-point, extremely clear and no-nonsense songwriting fundamentals! You bring clarity to my songwriting!

-Guy, Oregon
To wrap this up, you're going to be getting the EBook AND Audiobook versions of How to Write Songs That Sell plus SIX bonus EBooks. For the whole package, you'd probably expect to pay in excess of $150. And it'd be totally worth every penny. The 7 bonus items alone are worth at least $97. Once you get addicted to the charts provided in The Chord and Melody Writing Cheat Sheet alone, you'll know exactly what I'm talking about.
But I'm not going to charge you even close to $150. Today, , you can get all of this for only $47. The price will not stay this low for very long, so if you're even considering taking advantage of this deal, do it NOW by clicking the "Add to Cart" button below. You'll have immediate access to all of the materials.
And the best part is you can try out all of this information completely risk free.
Try the EBook and Bonuses Completely Risk Free!
Our 30 Day 100% Money Back Guarantee
If for any reason you think this course isn't the best $47 you've ever spent, just send me an email and I'll refund you the full $47. So take a full 30 days to experiment with the material, and if you don't think it's great, I'll refund your money. All I ask is you give it an honest effort. How is that for fair?

YES! Give Me Instant Access!

Your Low Price for Today, :
$47 (the EBooks are in pdf format and the Audiobook is in mp3 format)

To order and get immediate access to the EBook AND Audiobook, How to Write Songs That Sell, PLUS all SIX of your bonus EBooks for today's price of $47, have your credit card ready and click the big orange button below:

P.S. – Remember, if you keep doing things the same way you've been doing them, you're going to get the same results you've been getting. Plus, you can take comfort in knowing that by using what you'll learn in this EBook, you won't have to worry about getting writer's block anymore. You'll have clearly defined ways for coming up with a song your listeners will want to hear every time you write. And the EBook is risk-free, so it's a no brainer.